Our Mission
To advance an innovative peace movement for today's world through critical dialogue, education, community advocacy and the arts.
Our Vision
For the past half century, "peace" has often been practiced through ceremony and symbol. But the polarizing issues facing us today beckon us to modernize the peace movement - to make it active.
We believe peace is not an amorphous goal that lives in the future beyond our planet, but rather that it can be accomplished through manageable, everyday acts of positive peace in one's own life.
All of us can be doing something TOWARDS peace.
It could be helping a neighbor, planting a garden, practicing active listening during a moment of conflict, educating, volunteering, mentoring, or standing up rather than standing by. Peace is not simply the absence of war but the presence of social justice. It's not just about abolishing inhumane regimes but about establishing human rights.
At The Peace Studio, we believe the first step towards re-defining peace and building this movement is storytelling. Stories bring human beings of all backgrounds into proximity with each other - to build empathy and to have difficult conversations. Stories can spark new ideas and practices to end violence and oppression. Stories can hold up worlds we have never seen before and say...what if?
By empowering world-class storytellers of all disciplines - authors, artists, musicians, actors, dancers, thought leaders, journalists, celebrities and educators to tell transformational stories of truth, reconciliation, healing, and hope - we believe we can engage people from different sides of an issue in dialogue that moves them towards common purpose and constructive mutual action and encourages them to become their own change-makers.
The HUmanity Project - 2019
A cross-cultural theater exchange between young American and Rwandan artists in remembrance of the 25th anniversary of the Rwandan genocide and in a call for an end to violence worldwide.
The piece we created was premiered at the Ubumuntu Arts Festival at the Kigali Genocide Memorial on July 14 to a lengthy standing ovation. A documentary about the project will be released in Spring 2020.
Held at Florence Gould Hall in NYC and in partnership with the youth-based group, Peace First, the summit celebrated the courage and innovation of young peace-builders and artists. Presenters featured leaders from the Obama and Gandhi families as well as from March for our Lives, the National School Walkout, buildON, and Do Something.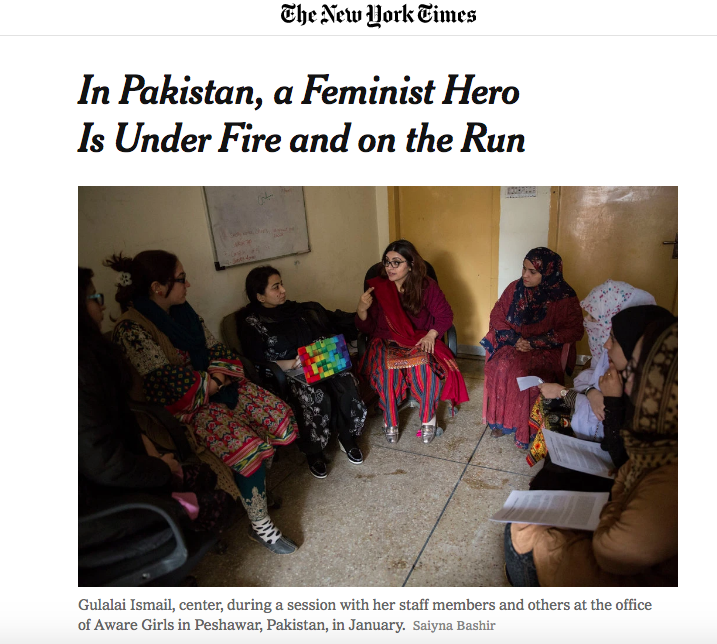 Gulalai Ismail - NY TIMES
Helped advocate on behalf of Peace Studio participant Saba Ismail and her sister, feminist hero Gulalai Ismail, who was on the run in Pakistan - and whose life was on the line - because of her remarkably courageous advocacy on behalf of girls and women in that country. The article, by Jeffrey Gettleman, another Peace Studio participant, helped draw international attention to Gulalai's story which, in turn, led to local police who were torturing her family to stop doing so. Gulalai is now in a safe place.
A two-day event at Auburn Seminary in NYC that focused on stories of those affected by violence including Scarlett Lewis, who lost her son at Sandy Hook; Kathy Eldon, whose 21-year-old photojournalist son Dan was killed by an angry mob in Somalia; and Pulitzer Prize administrator and former New York Times reporter Dana Canedy (pictured above), whose husband, First Sgt. Charles Monroe King, was killed serving in the Iraq War.